2020 Center Updates
2022 TEXAS STATE PLANE COORDINATE SYSTEM
The Texas Spatial Reference Center (Center) at Texas A&M University – Corpus Christi has recently teamed with members of the Texas Department of Transportation Committee on Geomatics & Surveying (COGS) and the Texas Society of Professional Surveyors (TSPS) to create all new projection zones for the State of Texas in support of the nationwide datum replacement of the National Spatial Reference System (NSRS). The role of the Center is facilitation of meetings, coordination of zone submission to the National Geodetic Survey (NGS), and education and outreach to promote the new datum and zones to the industry in Texas. Along with these significant changes, there will be an adoption of a standard official unit of measure to the international foot.
2022 NSRS & STATE COORDINATE SYSTEM WORKSHOP
This past January, the Center, along with the Conrad Blucher Institute, hosted a full-day workshop in New Braunfels, Texas, for the surveying profession. Geodesist from NGS, COGS and professional surveyors gave a brief informative presentation about the new datum and the changes to the projection zones across Texas. In addition to the presentation, the Texas A&M University – Corpus Christi GIS Student Organization (GISSO) team gave their presentation to the surveying audience as their part of the National Competition which was to be held in early April. (UPDATE: TAMU-CC GISSO Team won first place in the NSPS National Competition this year.) Nearly 200 people attended this workshop. Another workshop was to be organized for late spring but was cancelled due to the COVID-19 pandemic.
TRSC & CBI VISITS NORTH CAROLINA GEODETIC SURVEY
Davey Edwards, Director of the Center, James Rizzo, Assistant Director of Operations for CBI, and Michael Starek, Chief Scientist for CBI, traveled to North Carolina in March to meet with Gary Thompson, Chief of the North Carolina Geodetic Survey (NCGS). This visit provided the Center with an understanding of the NCGS and its geodetic and geospatial contribution to the State of North Carolina, especially during times of emergency, for future implementation for the Center.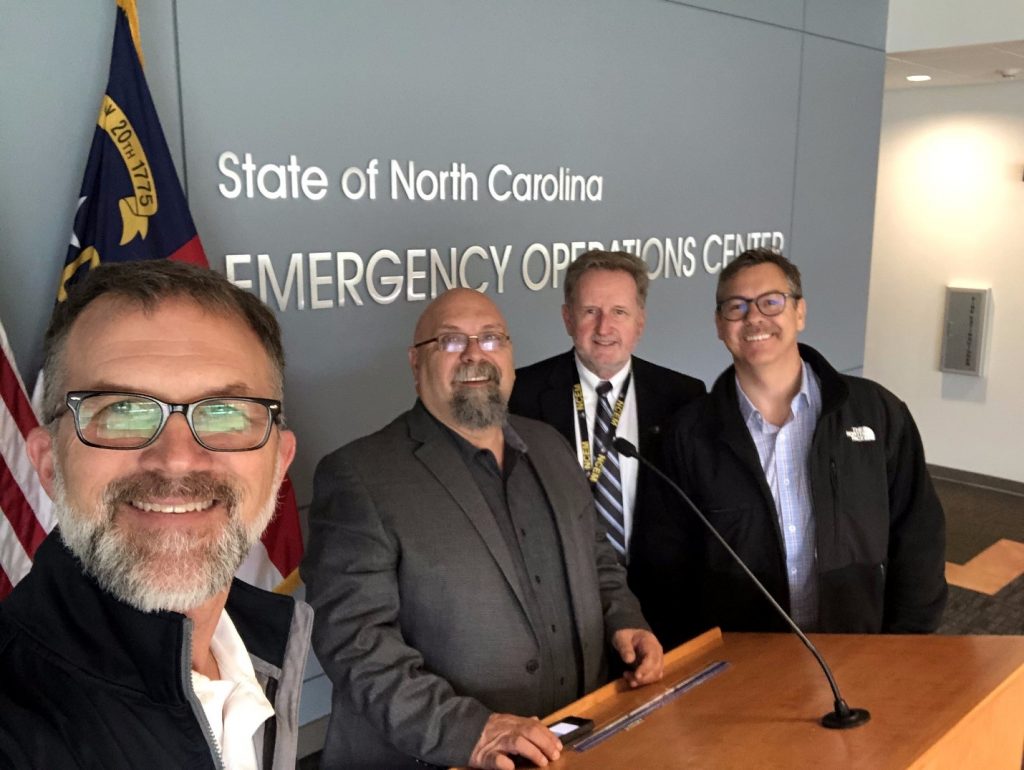 2022 TxDOT GNSS ENHANCEMENT RESEARCH PROJECT
Recently, Texas Department of Transportation award a research project to Davey Edwards, Director of the Center, to investigate and suggest procedure revision for the establishment and maintenance of horizontal and vertical control on current and future highway projects in concurrence with the adoption of the 2022 NSRS and Texas State Coordinate System through the use of the GNSS Real-time Network. This research will focus on the Corpus Christi district as a pilot project to be used statewide and will give insight to the maintenance and densification of the NGS passive control network across Texas.